Burlington Engineering, Inc., strips and treats the surface of metal products using a variety of metal finishing techniques. Paint stripping prepares metal surfaces prior to re-coating, and salt bath nitriding treats the surface of steel parts to enhance corrosion protection, wear resistance, surface hardness and provides a beautiful black finish.
In business since 1979, we have extensive experience in commercial metal paint stripping and have assisted with efforts to create more environmentally-friendly paint stripping processes. Burlington Engineering is also one of the few companies experienced in the Melonite salt bath nitriding process to enhance the wear and corrosion resistance of plain carbon steels, low alloy steels, and stainless steels.
We provide metal finishing for OEMs, commercial painting operations, and industries including medical, firearms, oil and gas, military, gear manufacturing, hydraulics, and more. Learn more about our metal finishing services or contact our experts to discuss your project requirements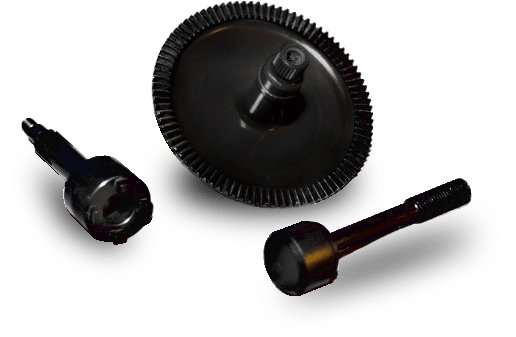 Melonite®Salt Bath Nitriding
Melonite, also referred to as Tenifer or Tufftride, are identical processes that use a nitrogen-rich molten salt bath in order to significantly improve wear, corrosion resistance,and fatigue strength of steel parts. Melonite is not a coating, will not wear away, and provides a higher level of protection than hard chrome, nickel, and similar metal plating methods. The Melonite process is an environmentally-friendly alternative that creates a durable black finish and causes no distortion.
Burlington Engineering, Inc. is the only company on the West Coast that offers Melonite processing. Our quality management system and process are developed and maintained to deliver exceptional results. We have experience Liquid Nitriding components for various industries, including, oil and gas, marine, military, and more. We are certified to the ISO 9001:2015 standard
Metal Paint Stripping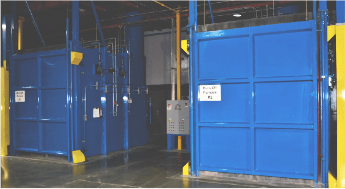 Burn-Off Furnaces and chemical tanks are effective for removing paint, and other organic coatings from steel, aluminum and other alloys. These processes are used for, paint fixture maintenance, refurbishment of old parts, and cleaning parts painted in error or coated incorrectly.
Burlington Engineering, Inc. is one of the few companies in SoCal that provides commercial paint stripping services. We are a leader in metal paint stripping and helped develop the paint stripping ovens required for compliance with California's Environmental Regulations.
Media
Blasting
Media Blasting prepares the surface of metal parts for re-coating; it can create a "profile pattern," which enhances the ability of paint to adhere. Abrasive blasting media can be used to remove paint and other coatings. Burlington Engineering, Inc. works with various types of abrasive blasting media to provide results that meet your metal finishing and paint stripping requirements.
Contact Burlington Engineering Today to Discuss Your Metal Finishing Project
We provide metal finishing solutions for a broad range of industry applications and have the expertise to ensure your finished product meets or exceeds your requirements. Contact us today to discuss our options for Melonite® processing, metal paint stripping and more.