Paint Stripping
Metal Paint Stripping removes paint and other organic coatings from steel, aluminum and other alloys. The process is used for paint fixture maintenance, refurbishment of old parts and cleaning parts painted in error or coated incorrectly. Commercial paint stripping can be completed using various processes including thermal stripping, media blasting and chemical stripping.
Paint Stripping Services for Industrial Equipment
Burlington Engineering, Inc. is one of the largest strippers of paint and organic materials in California for metal paint stripping. We employ furnaces, chemicals and media blasting to meet your specifications of paint stripping. Our capacity is vast, and we handle orders with various sizes and quantities. Turnaround times vary depending on the paint stripping requirement.
Which Paint Stripping Method Is the Best for Removing Paint Coatings?
Thermal metal paint stripping is a popular paint stripping method that involves the use of computer-operated furnaces that reach temperatures up to 850°F. It is more economical than other paint stripping methods and works well for both powder and liquid coatings. Benefits are that thermal paint stripping does not change the surface texture, and there is no entrapment of chemicals that could later leach out.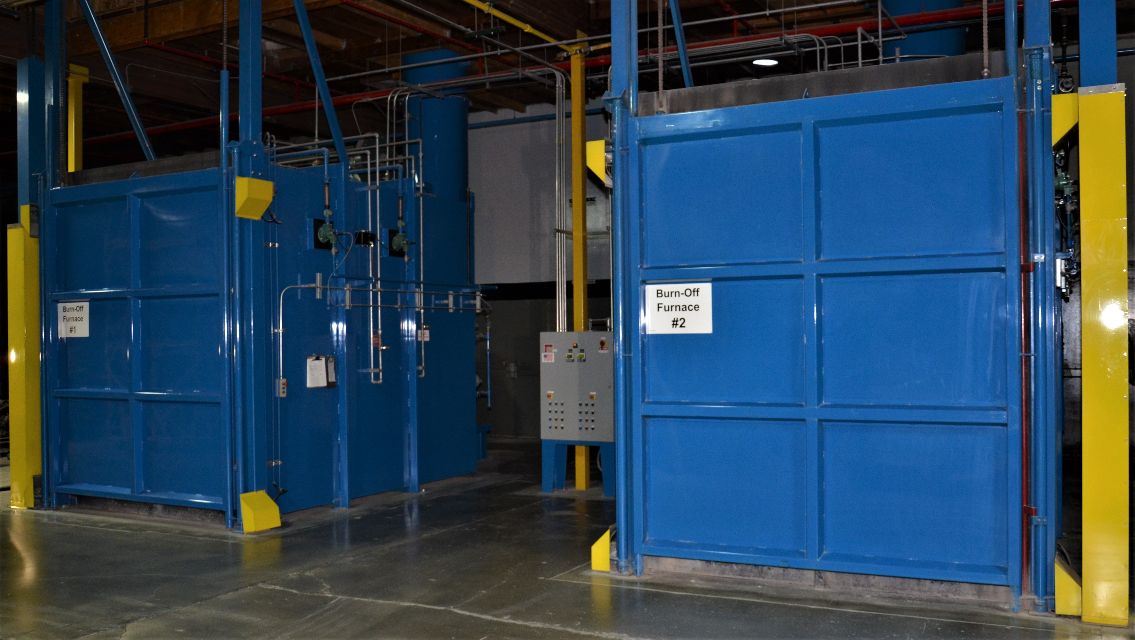 All chemical paint stripping is performed in a fully contained "wet" room, allowing us to accommodate equipment and parts of various sizes.
Media blasting is another popular method and involves using steel grit, glass beads, soda, and other abrasive blasting media to remove coatings. Paint stripping with blasting media can change the texture of the surface due to the abrasiveness of the materials used and may not be suitable in all cases.

The type of metal or alloy your part is made of will determine which process is best for your paint stripping application. Each alloy has a different heat tolerance, so thermal paint stripping is not ideal for all materials. For media blasting, the type of abrasive media used will depend heavily on material type and the type and thickness of the paint or coating that is being removed. We have decades of experience in metal paint stripping and can help you select which method is best for your parts and equipment. 
Our Commitment to Providing Safer Paint Stripping Processes
We are proud to be at the forefront of discovering new chemicals for paint stripping which are not carcinogenic and are safer for our employees and the environment. Burlington was one of the first companies to use "wet" rooms in its chemical paint stripping operations for environmental control and containment. These rooms allow the successful removal of paint from metal without contaminating the environment. All spent liquids are recovered, filtered, and treated for reuse and safe disposal.  Our facility has an on-site wastewater treatment facility. 
Schedule Your Metal Paint Stripping Service Today
Burlington Engineering provides in-house metal paint stripping at our facility in southern California using thermal, chemical, and abrasive blasting methods. We also provide salt bath nitriding to treat the surface of steel parts to enhance corrosion protection, wear resistance, and surface hardness of plain carbon steels; low alloy steels; and stainless steels. Contact us today to learn more.